Our current auction
Online Elite Bull Sale - Friday, the 15th of July
This is a traditional English auction.
Auction is closed.
ONLINE ELITE BULL SALE JULY 15TH 2016
Click here for the Sale catalogue
SALE METHOD
The sale will start on Friday, July the 15th on 15:00 / 03:00 PM CET and the lots are selling one after the other. Lot 1 starts selling at the start time of the sale, Lot 2 starts when Lot 1 is finished, Lot 3 starts after Lot 2 is finished, etc.


Start: Friday, July the 15th on 15:00 / 03:00 PM (Central European Time)
Next lot: After previous lot has closed
Lot duration: Each lot starts with 3 minutes sale time
Popcorn minutes: 3 minutes (When a bid placed in the final 3 minutes the clock will be automatically extended up to 3 minutes again)
Read more about how the sale works here.
SALE UPDATE
The sale updates will be mentioned here and on the individual catalogue pages
Genomic updates:
The following indexes have been calculated on the young bulls selling:


Please note: Indexes are calculated in April, May, June or July 2016. Please check the online catalogue pages for more information.
Lot 5. 1st Choice BYWAY x Golden-Oaks Mcc Charlina
- Semen requirement: 25 doses - See Article 7.7
Lot 7. Holbra DG CHAROS - OUT OF SALE!!


Lot 8 & Lot 12. 1st Choice Bull x Hospers Chayenne
- Grand dam is fresh in 2nd lactation, making high components
Lot 15. Ganseys CRIME TIME
- Crime Time RED already has over 750 daughters in his GES-proof, in August this will be over 900.
There are preliminary indexes now available, that show that extra daughters will make him go up in August for NVI, PL and SCS.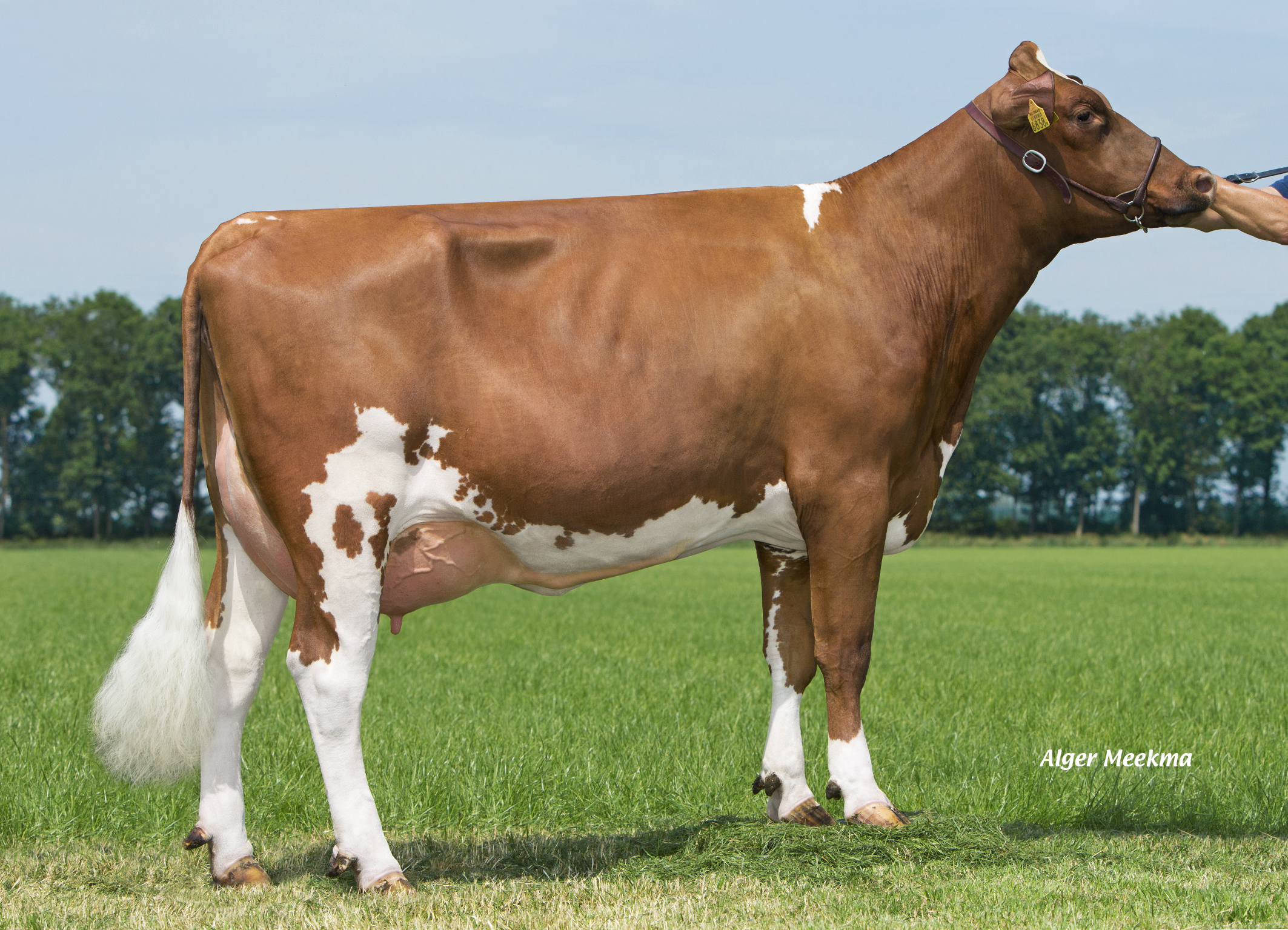 Crime Time daughter Maneschijn, pictured in June 2015
Crime Time RED is an interesting bull for programs needing:
- reliable proofs
- high longevity and components
- A2A2 sires
- aAa 564
This good looking bull is from a long life fertile cow family with high components.
Crime Time is tested HCD negative and is a very good semen producer.
On the Vekis Sale in March 2016 there was an impressive daughter group of this bull.
Watch the video showing a Crime Time progeny group at the March 2016 Vekis Sale:
https://www.facebook.com/aitotal/videos/vb.379095392200540/862570117186396/?type=2&theater
Lot 16. RH Pepper-PAM
- Info dam RH Supersire Pam classified: 85FR 84DS 86MS 83FL / VG-85-NL 2yr.
CONTACT INFORMATION
Do not hesitate to contact us for more information or questions.

Diamond Genetics - Tel. +31 (0)38 4606922
Contact persons: Jan de Vries - Tel. +31 (0)6 26250502 - Email. jandevries@diamond-genetics.nl
Jan Postma - Tel. +31 (0)6 42778550 - Email. janpostma@diamond-genetics.nl
Jan van den Oord - Tel. +33 (0)6 79961625 - Email. jan.vdo@diamond-genetics.fr
Alison Maddrell - Tel. +44 (0)77 8960267 - Email. alison@diamondgenetics.co.uk
Steve Mower - Tel. +1 (0)240 5205906 - Email. steve.mower@amsgenetics.com